Tour Youngstown Air Reserve Station


October 15, 2021




11:30 am - 2:30 pm
Tour the Youngstown Air Reserve Station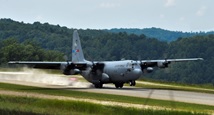 DATE:  Friday, October 15, 2021
TIME:   Registration/networking – 11:30 am, then lunch at 12 pm – order from café menu; Presentation and tour following lunch
MASKS REQUIRED
BACK BY POPULAR DEMAND…Tour the Youngstown Air Reserve Station  3976 King Graves Road, Vienna OH 44473
Our host:  Lt Col  David A. Tancer  |  910 AW Chief of Safety
Lt Col Drew Tancer will share how safety and health are managed at this important military facility.  Following lunch and the presentation, we'll get a tour of the base including the NEW Security Forces Training Building, 9mm firing range and dust/noise control, NEW Striker high pressure fire trucks and C130 aircraft!
Special note – your e-mail address and driver's license number (and state) are required when registering.  Sorry, but you're visiting a military base. 
** Registration deadline is October 5, 2021 to allow for security clearance checks.
Members (including Student and Emeritus) $5;  Non-members; $10
Lunch is not included in the registration fee and paid by the attendee at the event.